Moving to California Trends
Every year, the face of California changes. A new report lets us know just how much.
Wealthier people and those from states like New York and Illinois are moving in by the droves to California while young people with less money are bailing out to states such as Texas, Arizona and Nevada, a report from the state's
Legislative Analyst's Office revealed
Wednesday.
The underlying factors of these migration patterns are not spelled out in the report, but the data analyzed by the state's fiscal and policy adviser office offers a peek at some interesting trends.
Californians moved to Texas, Arizona, Nevada, Oregon
California is losing residents who are moving to states all over the country but, between 2007 and 2016, the top state of destination for ex-Californians has been Texas, followed by Arizona, Nevada and Oregon, in that order.
Very few of the people moving out of California went to states like Maine, North Dakota or even West Virginia.
People from New York, Illinois and New Jersey are moving in
People from 15 states moved in to California between 2007 and 2016, the report found, with most coming from states like New York, Illinois, New Jersey and Michigan.
Low-income folks moved out, high-income folks moved in
People making $55,000 or less a year were mostly moving out of California between 2007 and 2016, the report found, while people making more than $200,000 a year moved in.
More of those residents with lower income were moving to states like Texas, Nevada and Arizona. And more of those with higher incomes were coming into California from states like New York, Illinois, and New Jersey.
Young people with less education also left California
California families with children under 18 years of age moved out in droves to states like Texas, Arizona, Nevada, and Oregon. California also lost a lot of people with a high school degree or some college education in this span.
On the flip side, California gained more adults between ages 26 and 35, many with bachelor's or master's degree — mostly from New York and from Illinois.
With this, the face of California is changing into one that looks wealthier and middle-aged.
The California Department of Finance predicts that Los Angeles County will hit a ceiling in 2052 at 11,279,077 residents.
Orange County should peak in 2055 at a population of 3,621,879, according to the Finance Department, whose estimates and methodologies differ from those of the U.S. Census Bureau.
Riverside and San Bernardino counties are on track to grow every year through at least 2060, the farthest into the future that the state forecasts. Riverside County could start that decade with at least 3.6 million residents; San Bernardino County, with at least 3.2 million.
California stands out as one of the few states that has been taking in high rates of people with four-year degrees or higher while losing people with lower level of education
said Brown, the UC Irvine professor.
Coastal counties see higher housing costs
Orange and Los Angeles counties are being hit especially hard by the statewide housing crisis as the population keeps growing — if not as fast as in years past — and construction doesn't keep pace, which pushes up home prices and apartment rents.
Southern California is an attractive place to live for a variety of reasons: famously sunny weather, proximity to ocean surf and snowy mountains, a robust job market and world-class universities
, Ikhrata said.
That contributes to why 850,000 more people live in those four counties than in 2010. And the population is expected to keep rising for decades — whether people want it to or not.
"I think we need to get ready for it," Ikhrata said.
As young families favor the relatively affordable Inland Empire over more expensive coastal living, the populations in Los Angeles and Orange counties gradually will become older, said Susan K. Brown, a professor of sociology at UC Irvine who studies demographic trends.
"That will probably affect the human situation in the short run," she said; with fewer children, schools in those counties could see dwindling enrollment.
The high housing costs aren't just driving away residents, said Ikhrata with the Southern California Association of Governments.
"Employers who want to move to L.A. and Orange County are thinking twice now because of housing," Ikhrata said.
He said that could even affect, for example, Amazon's location decision for a second headquarters.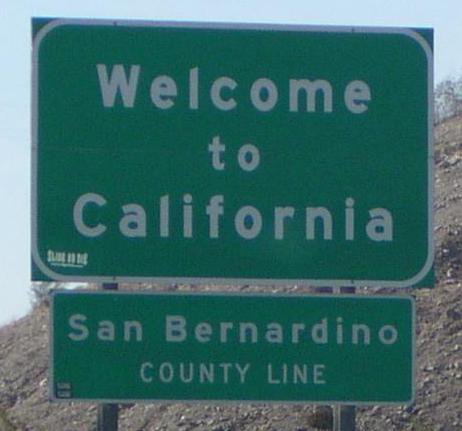 Inland counties are booming
Riverside County's population growth is mostly due to people moving in, Cromwell said. San Bernardino County also had positive net migration, but natural growth was a bigger factor in the population increase.
Housing is a major reason people move to the Inland Empire.
The median home price was $710,000 in Orange County and $580,000 in Los Angeles County in February, according to CoreLogic. Compare that to $375,000 in Riverside County and $336,500 in San Bernardino County. Inland apartment rents are also lower.
"Riverside and San Bernardino counties both have plenty of housing that is not available in Los Angeles and Orange counties," said Hasan Ikhrata, executive director for the Southern California Association of Governments.
Permits were issued last year to build about 6,000 single-family houses in Riverside County, 5,000 of which were in the western portion of the county, and almost 7,000 single-family homes and mulit-family housing units in San Bernardino County, with the Chino-Ontario area being a construction hot spot, Building Industry Association officials said.
A significant number of new jobs created now that the region has rebounded from the recession also is a factor, said Karthick Ramakrishnan, associate dean for the UC Riverside School of Public Policy.
Ramakrishnan cautioned that as high housing prices push more people out of Los Angeles and Orange counties, the population shift will drive Inland prices up.
Over 82,000 more people were living in Los Angeles, Orange, Riverside and San Bernardino counties in 2017 than 2016, according to new data released by the U.S. Census Bureau.
The biggest growth, not surprisingly, was in the two Inland counties, where housing is cheaper and home construction is feverishly trying to keep up with demand.
Riverside County alone added almost 37,000 new residents – the third-biggest population growth of any county in the nation. San Bernardino County added another 20,000 new residents, coming in at No. 18.
Los Angeles and Orange counties also grew by close to 13,000 residents each, enough to put both of them in the top 40 on a list of 3,220 counties, including Puerto Rico's municipios.
Because all four Southern California counties are so huge already — Los Angeles County is the most populous in the U.S., and all four are in the top 15 —
A recent McKinsey Global Institute study, for example, found that a third of metro-area renters in California can't afford what they pay, a sobering sign of the lack of new affordable housing being built.
And it's not just Los Angeles County and the Bay Area—where a salary of $150,000, adjusted for median income, means you're earning less than a middle-class wage.
Texas, for instance, has boomed, becoming one of the fastest-growing states in the nation. It's now home to 867,000 new residents from California, who arrived between 2010 and 2016. States like Texas, and, to a lesser degree, Nevada and Arizona, have gained from California's losses. People are leaving the Bay Area for Las Vegas, enticed by its attractive cost of living and the relatively low price of new homes there, which sell for between $200,000 and $300,000.

New Yorkers Are Fleeing To Los Angeles In Droves, Study Shows
Thousands of working professionals have relocated to Los Angeles County from New York City in the past year and a half, LA's growing job market according to
a series of monthly "workforce reports"
released this spring and summer by the job-networking site LinkedIn. Since early 2016, according to LinkedIn, around seven or eight out of every 10,000 site users in LA reported moving there recently from NYC — making New Yorkers the No. 1 type of transplant in LA.
LinkedIn's data set is limited to its millions of account holders — who are, for the most part, skilled and educated members of the middle and upper class.
"Migration is dominated by professionals," explained Guy Berger, LinkedIn's resident economist — an NYC-to-LA transplant himself. "They tend to move more than people with lower education," he said, as "it's not cheap to pick up sticks and move somewhere else.
In years to come, millions of people, thousands of businesses and tens of billions of dollars of net income will flee high-tax blue states for low-tax red states," they said. They say 800,000 people will move from California and New York over the next three years. Connecticut, New Jersey and Minnesota will lose a combined 500,000 people over the same period.

What's more, the number of millionaires in those high-tax states is actually growing, not shrinking.
Since 2010, New Jersey has added 46,000 net new millionaires for a current total of 258,000, according to the latest data from Phoenix Marketing.
New York has added 84,000 new millionaires for a total of 465,000. And California has added a whopping 169,000 new millionaires since 2010 bringing its current total to 885,000. In all of these high-tax states the broader populations have increased as well.
the new tax bill will cause a net 800,000 people to move out of California and New York over the next three years.The tax changes limit the deduction of state and local taxes to $10,000, so many high-earning taxpayers in high-tax states will actually face a tax increase under the new tax code.